Medical Reserve Corps
A colloboration between Christian County Emergency Management
and the Chrisitan County Health Department
We are currently recruiting Christian County Medical Professionals to participate in the Medical Reserve Corps. If you should accept a position as a Medical Reserve Corps (MRC) volunteer, you could be called upon to assist with public health efforts in times of special need or disaster, e.g. during a major communicable disease outbreak, an earthquake, flood, or an act of terrorism. MRCs bring volunteers together to supplement existing local emergency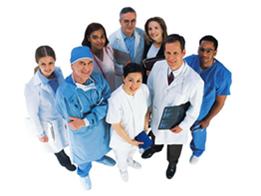 plans and resources.
Members of an MRC may also want to volunteer their time throughout the year in order to promote community public health and education. Please bear in mind that this position is strictly of a volunteer nature and you would never be required to participate in any event that would cause a hardship for you with either your work or personal situation.
---
Overview
MRC units are community-based and function as a way to locally organize and utilize volunteers who want to donate their time and expertise to prepare for and respond to emergencies and promote healthy living throughout the year. MRC volunteers supplement existing emergency and public health resources. 

The Medical Reserve Corp is a component of the Citizen Corps. The other components of the Citizen Corps include: Community Emergency Response Team (CERT), FireCorps, Volunteers in Police Service (VIPS), Neighborhood Watch and Amateur Radio. 


MRC volunteers include medical and public health professionals such as physicians, nurses, pharmacists, dentists, veterinarians, and epidemiologists. Many community members—interpreters, chaplains, office workers, legal advisors, and others—can fill key support positions. 

MRC units are provided specific areas to target that strengthen the public health infrastructure of their communities by the U.S. Surgeon General. These are outlined priorities for the health of individuals, and the nation as a whole, which also serve as a guide to the MRC. The overarching goal is to improve health literacy, and in support of this, she wants us to work towards increasing disease prevention, eliminating health disparities, and improving public health preparedness. 

MRC volunteers can choose to support communities in need nationwide. When the southeast was battered by hurricanes in 2004, MRC volunteers in the affected areas and beyond helped communities by filling in at local hospitals, assisting their neighbors at local shelters, and providing first aid to those injured by the storms. During this 2-month period, more than 30 MRC units worked as part of the relief efforts, including those whose volunteers were called in from across the country to assist the American Red Cross (ARC) and the Federal Emergency Management Agency (FEMA).

During the 2005 Hurricane Season, MRC members provided support for ARC health services, mental health and shelter operations. MRC members also supported the HHS response and recovery efforts by staffing special needs shelters, Community Health Centers and health clinics, and assisting health assessment teams in the Gulf Coast region. More than 1,500 MRC members were willing to deploy outside their local jurisdiction on optional missions to the disaster-affected areas with their state agencies, the ARC, and HHS. Of these, almost 200 volunteers from 25 MRC units were activated by HHS, and more than 400 volunteers from more than 80 local MRC units were activateded to support ARC disaster operations in Gulf Coast areas.
---

Types of Volunteers that we need:

MRC volunteers include medical, non-medical, and public health professionals, who are interested in strengthening the public health infrastructure and improving the preparedness and response capabilities of their local jurisdiction. MRC units identify, screen, train and organize the volunteers, and utilize them to support routine public health activities and augment preparedness and response efforts.  MRC volunteers include physicians, physician assistants, nurse practitioners, nurses, pharmacists, dentists, veterinarians, mental health professionals, EMS professionals, respiratory therapists, other public health professionals, non-medical professionals, and others who can fill key support positions. fill support roles such as; clerical, greeters, phone operators, data entry, computer technicians, etc.

Levels of Participation
Not everyone can devote alot of time to volunteering. But, we still need these types of professional people. In an effort to accommodate this, we have several different levels of participation and education.
Education Levels
Level One:

Current Missouri professional license or certification (medical & mental health)

Consultation Area
Medical Screeners
Medicine Dispensers
Vaccinators
Vaccinator Assistants
Triage

Level Two

Medical background and experience – no license.

Interpretation
Greeters
Educators
Registration
Assisting Dispensers or Vaccinators


Level Three

Non-medical, basic support

Clinic Flow
Clinic Manager
Data Entry
Security
Forms Collection
Supply Manager
Public Information Liaison



---
Participation Levels
Tier 1: The tier 1 volunteer chooses to be available only in the event of a large scale public health emergency. Typically, a tier 1 volunteer does not have much time available to attend pre-event trainings or exercises, yet will be expected to fulfill volunteer requirements. 



Tier 2: The tier 2 volunteer is interested in obtaining additional pre-event training, participating in exercises, and may choose to volunteer in nonemergency public health functions upon request. 


Tier 3: The tier 3 volunteer is interested in accepting a leadership role within the MRC. Most tier 3 volunteers will be assigned to positions within the National Incident Management (NIMS) structure. Tier 3 volunteers may choose to attend local and out-of-town trainings, seminars and conferences. They agree to participate in planning meetings and exercises, and may choose to participate in non-emergency public health functions upon request.
---
More Information:
Show-Me Response is Missouri's Emergency System for Advanced Registration for Volunteer Health Professionals, which is a federal directive through the U.S. Department of Health and Human Services to support more efficient intrastate, state-to-state, and state-to-federal health care volunteer response.  It is a web-based management system that allows health care and non-medical professionals to preregister online and become volunteers in the event of a major disaster or public health emergency.  Show-Me Response provides readily available, verifiable, up-to-date information regarding a volunteer's identity, professional license verification status, and employment information, as well as tools to notify and manage the activation of volunteers





MRC Train is the the premier learning resource for professionals who protect the public's health. A free service of the Public Health Foundation, www.train.org is part of the newly expanded TrainingFinder Real-time Affiliate Integrated Network (TRAIN).

Quickly find and register for many courses listed on Train.org and participating TRAIN affiliate sites,
Track your learning with personal online transcripts,
Access valuable materials, course reviews, and discussions to improve your learning experience, and
Stay informed of the latest public health trainings for your area or expertise
Members of the Christian County MRC will be required to track their training on this web site.

Recruitment Video
---
Downloadable files for members and prospective members
Downloadable forms that are required for MRC Members
E-mail the Emergency Management Office for more information 
Mailing Address
100 W. Church Room 100
Ozark, MO 65721


Physical Address
100 W. Elm St Room 60
Ozark, MO 65721
(Judicial Building on the south side of the square