CERT Training Academy
Next Class will be in the fall
Cost is FREE!
Class is on a Friday Evening
and the next 2 Saturdays
Please send us an email at:
cert@christiancountymo.gov to confirm your reservation!!
Call: 417.582.5400 for more info

Before, during, and after disasters, CERT volunteer teams perform basic response activities, including checking in on neighbors, distributing information to the public, supporting emergency operations centers, and helping to manage traffic and crowds. Local CERT programs train and organize teams of volunteers to assist their families, neighbors, co-workers, and other community members.
Community Emergency Response Team
Phil Amtower, Program Administrator

Success Stories / Deployments

The Community Emergency Response Team (CERT) program helps train people to be better prepared to respond to emergency situations in their communities. When emergencies happen, CERT members can give critical support to first responders, provide immediate assistance to victims, and organize spontaneous volunteers at a disaster site. CERT members can also help with non-emergency projects that help improve the safety of the community.
The CERT course is taught in the community by a trained team of first responders who have completed a CERT Train-the-Trainer course conducted by their state training office for emergency management, or FEMA's Emergency Management Institute (EMI), located in Emmitsburg, Maryland. CERT training includes disaster preparedness, disaster fire suppression, basic disaster medical operations, and light search and rescue operations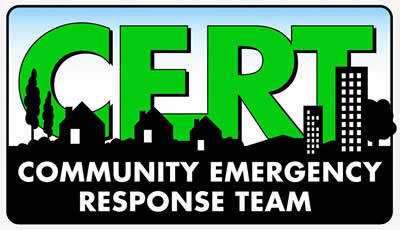 Q: Why take the CERT training?
A: Local government prepares for everyday emergencies. However, there can be an emergency or disaster that can overwhelm the community's immediate response capability. While adjacent jurisdictions, State and Federal resources can activate to help, there may be a delay for them getting to those who need them. The primary reason for CERT training is to give people the decision-making, organizational, and practical skills to offer immediate assistance to family members, neighbors, and associates while waiting for help. While people will respond to others in need without the training, the goal of the CERT program is to help people do so effectively and efficiently without placing themselves in unnecessary danger.
Q: How does CERT benefit the community?
A: People who go through CERT training have a better understanding of the potential threats to their home, workplace and community and can take the right steps to lessen the effects of these hazards on themselves, their homes or workplace. If a disaster happens that overwhelms local response capability, CERT members can apply the training learned in the classroom and during exercises to give critical support to their family, loved ones, neighbors or associates in their immediate area until help arrives. When help does arrive, CERTs provide useful information to responders and support their efforts, as directed, at the disaster site. CERT members can also assist with non-emergency projects that improve the safety of the community. CERTs have been used to distribute and/or install smoke alarms, replace smoke alarm batteries in the home of elderly, distribute disaster education material, provide services at special events, such as parades, sporting events, concerts and more.

Q: What if I want to do more than just the basic training?
A: CERT members can increase their knowledge and capability by attending classes provided by other community agencies on special needs concerns, donation management, community relations, shelter management, debris removal, utilities control, advanced first aid, Automatic External Defibrillator use, CPR skills, and others. Our agency maintains records of this training and calls upon CERT members when these additional skills are needed in the community.
CERT member also can use their skills to help the program flourish by volunteering to schedule events, produce a newsletter, perform administrative work, and take leadership positions.
Resources